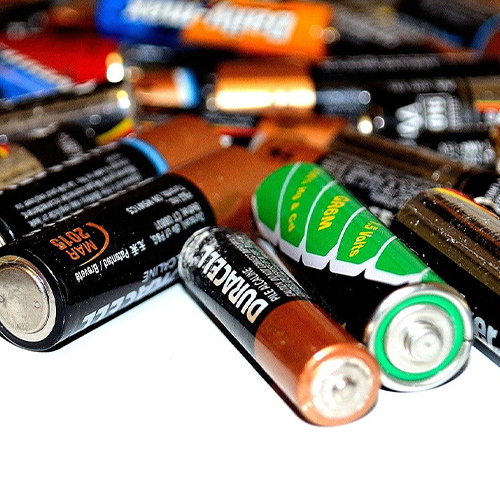 1. Save your used household batteries and recycle them at your nearest supermarket.
Unfortunately household batteries cannot be accepted in our kerbside recycling services. Save your used batteries in a large pot or tub somewhere at home so that once you have a box full you can go to your nearest supermarket, electronics store or pretty much any other retailer and recycle them in a single trip.
All types of household batteries can be recycled with all the different metals used being completely recoverable and recyclable an unlimited number of times. It's really important that we recycle our batteries because if we don't and they end up in landfill they will start to leak nasty chemicals called 'heavy metals' which are absorbed by the soil and then find their way into our water supplies, rivers and lakes.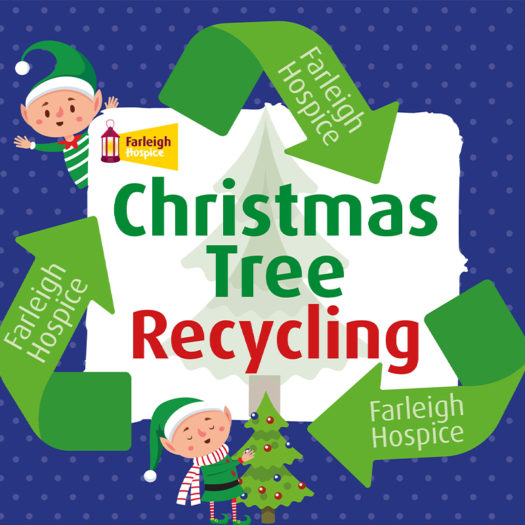 2. Farleigh Hospice Christmas tree recycling
Farleigh Hospice Christmas Tree Recycling is back and is once again staging its annual door-to-door collection. On the 7th, 8th and 9th January 2022, a dedicated team of staff and volunteers will be making their rounds throughout Chelmsford and surrounding areas, collecting Christmas trees from homes and businesses in return for a donation to Farleigh Hospice.
Every penny raised will make a huge difference to those living with a life-limiting illnesses or bereavement. Plus you'll be doing your bit for the environment by recycling your tree!
Registration is open now and will close on the 4th January 2022, visit their website or call 01245 457411 to book a collection.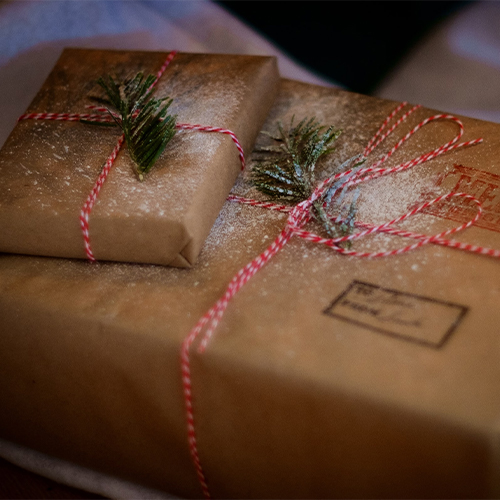 3. Choose recyclable wrapping paper or opt for greener alternatives
Some types of wrapping paper aren't recyclable. This is because they either have a plastic film on them, which means they are a 'composite' material and can neither be recycled as paper or plastic in kerbside collection service, or because they have glitter on the wrapping paper.
Glitter is made from a combination of aluminium and plastic and is a microplastic, which makes it and anything with glitter stuck to it completely unrecyclable. Ribbons and bows are also not recyclable so make sure to hold onto these and reuse them next year!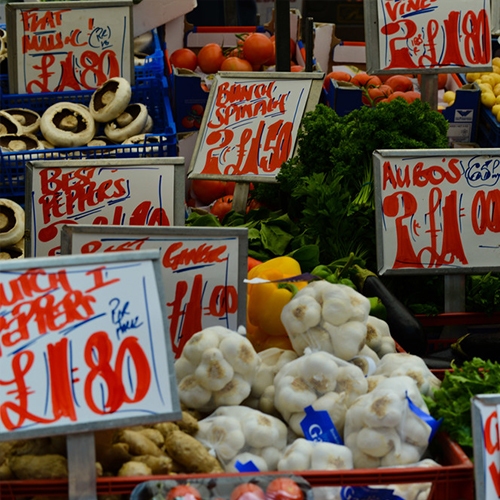 5. Buy local food – look for organic and ethically sourced on the label
This year, it's more important than ever that we support our local small businesses. Whether it's buying our fruit and veg from the greengrocer, choosing our turkey from a local farm or getting our pigs in blankets from the butchers… Every penny really does make all the difference to businesses in our community.
If you fancy going a step further, then keep an eye out for 'Organic' or 'Fairtrade' products too. This means that they've been produced in an ethical and more environmentally friendly way.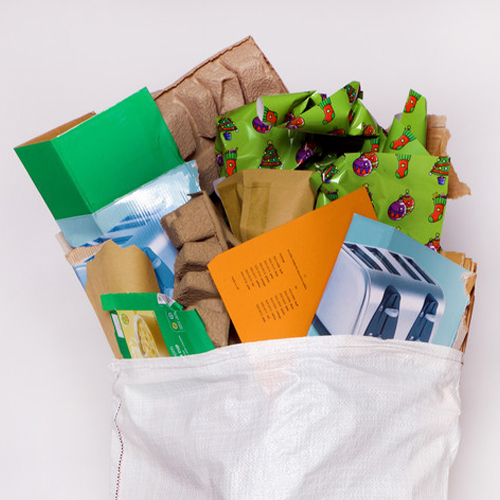 6. Know what recycling goes where
In Chelmsford, we require paper and cardboard to be separated as they are made up of different quality fibres. The paper sack is for high-quality items such as magazines, newspapers and Christmas cards. The cardboard sack is for lower-quality items such as cereal boxes, brown paper and wrapping paper. Please refer to your 'Recycling In Chelmsford Easy Guide' or search our Recycling A-Z for items you're unsure about. Despite the difference in fibre quality, both Christmas cards and wrapping paper are excellent for recycling into new products.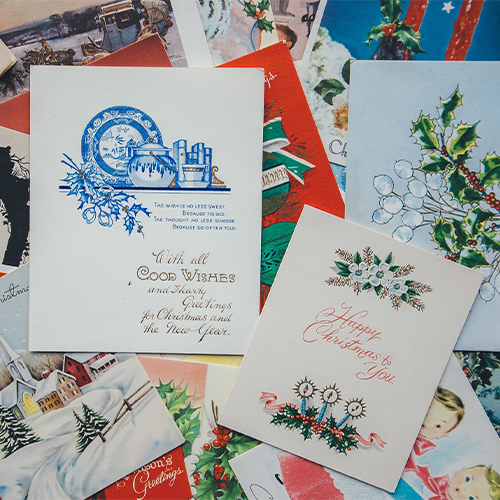 7. Choose e-Christmas cards and save trees and money
1.5 billion single-use Christmas cards are thrown away by UK households each year. Choose to send e-cards instead this year to save trees, lower your carbon footprint and save money!  If you do wish to send cards though, forest friendly or plantable cards are excellent choices as they give more back to our natural environment than they take away.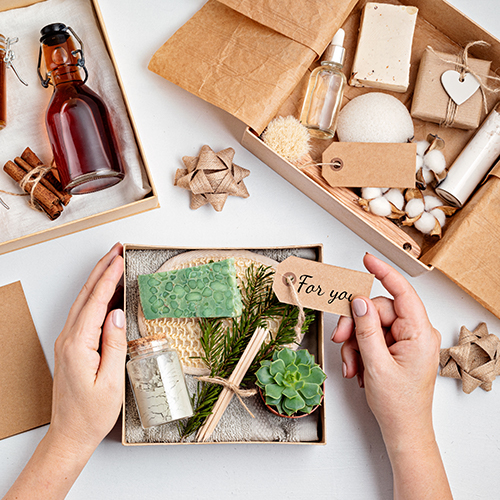 8. Keep ethics in mind when you buy gifts (buy from eco-friendly, ethical or plastic free businesses)
The gifts we buy each other during the festive period have a big environmental impact at Christmas, especially when considering production, their packaging and non-recyclable hard plastics.  Thankfully, many of us are now choosing eco-friendly, ethically made or plastic free gifts instead. Fantastically, there has never been so many eco-friendly product lines to choose from!
9. Avoid glitter or choose plant-based alternatives
Glitter is a microplastic. It isn't recyclable and anything with glitter stuck to it is unrecyclable too. All Christmas cards and wrapping paper containing glitter must go into the black bin.
With an estimated 12.7 million tonnes of plastic now entering our oceans every year, lots of which is in the form of microplastics, it is important we avoid using glitter as much as we can.
Thankfully, there are now plant-based alternatives on the market that mean we can keep using glitter but in a way that doesn't cause plastic pollution – search online for 'bio glitter'.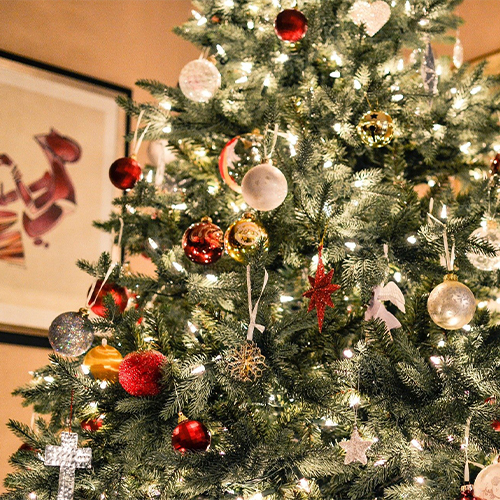 10. Switch to LED Christmas lights (and recycle old incandescent ones)
Amazingly Christmas lights cost the UK a whopping £3.75million per day to power throughout the month of December. This cost is beginning to shrink as LEDs becoming more common within households.
LEDs, or light-emitting diodes use around 80% less energy than older incandescent types and are longer lasting too, which means that the cost of buying new lights is often repaid surprisingly quick.