CSES Centenary: What will the next 100 years bring?
13 October 2020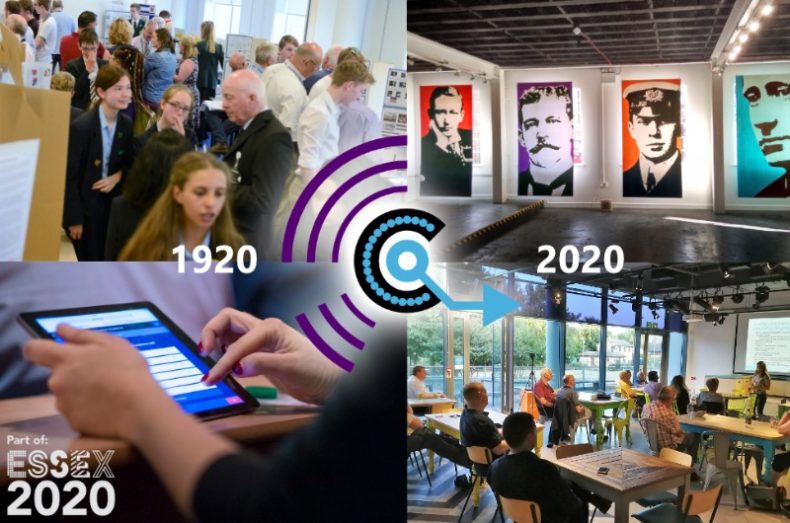 What will the next 100 years bring? For CSES, for Chelmsford and Essex, for the world in general?
As the Essex 2020 Autumn programme gets underway, the focus is on sustainability. And the Chelmsford Science and Engineering Society is very much looking to its future because on 13 October 2020, it turns 100 years old!
Please join us for a virtual Conversazione evening to celebrate this significant milestone. We will look back over the story from 1920 to now, explore a selection of exciting work that is taking place NOW to secure a more sustainable future for Essex, and discuss this increasingly important issue in our everyday lives.
In collaboration with Chelmsford City Council, Anglia Ruskin University, Essex Steamettes, LoveYourChelmsford, Essex Book Festival and others, a panel of diverse and expert speakers, including scientists, engineers and artists, will be tackling some of the really big sustainability topics relevant to science and technology, including urban design and planning, plastic pollution and food security. Yes, we will even be talking about viruses.
There will be plenty of opportunity to get involved with the conversation through Q&A and a panel session with the speakers.
In many ways, this is back to the future. Conversazione is a 100-year old CSES tradition (although hasn't been called that for a long time!), and our future plans include many more events like this as part of our My Smarter Essex series. This is just the beginning…
Guest contributors and topics:
The CSES Story – Anthony McQuiggan, Amy Knight and Chris Neale, CSES Trustees
Planning for Chelmsford's Future – Jeremy Potter, Spatial Planning Services Manager, Chelmsford City Council
Urban Resilience through Sustainable Drainage – Dr Maryam Imani, Senior Lecturer in Water Systems Engineering, Anglia Ruskin University
Solving the Plastic Pollution Problem – Dr Dannielle Green and Dr Gerbrandus Boots, Anglia Ruskin University
Silencing the Virus / She Heals – Lily Hunter Green, Artist
Essex Steamettes
This event will be delivered via Zoom. Please book your FREE place via Eventbrite HERE.