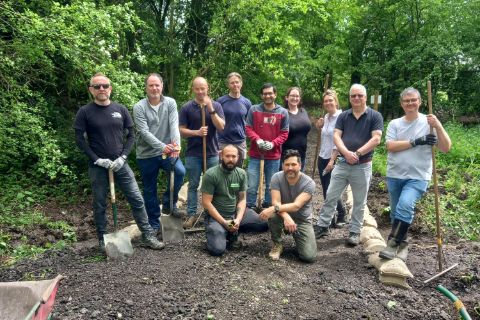 On a cool but bright day at the beginning of May, eleven members of the Murphy Enhancements Team, including two from Network Rail, met up at Chelmer Valley Local Nature Reserve.
With materials and guidance from the City Council Parks and Conservation Volunteer Leader we proceeded to create a culvert ditch crossing using pipe, stone chippings, wheelbarrows and lots of people power. We split into two teams, with one focusing on the culvert and the other on footpath maintenance. The culvert team set to work excavating the ditch to accommodate the larger pipes and the footpath team filled their wheelbarrows and took a stroll in the woods to even out the paths amongst the trees.
About halfway through the work we stopped for tea and biscuits and admired the work we had completed so far. We then happily carried on to complete the ditch crossing so we could use it to speed up fixing the footpaths by testing out the crossing and using it as a short cut.
From when we arrived to see two big piles of stone chips and some pipe, it didn't seem to take long for everything to come together.  We've had lots of positive feedback from the people who attended and as we left for the afternoon a lovely gentleman and his golden retriever were the first to use the completed crossing.