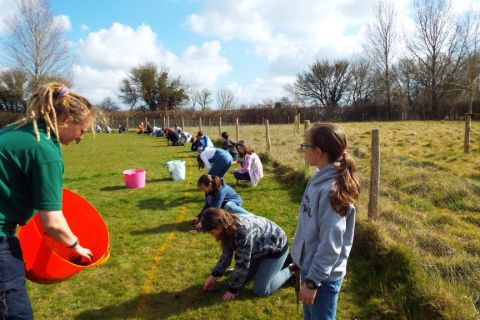 On Friday 18 March, years 5 and 6 from Ford End School went to the local park and met a group of volunteers from Chelmsford City Parks, who volunteer and look after the trees in the park.
One of the ladies took charge and showed us how to push a dibber into the ground to create a small hole.  Then she put a wildflower plug in the hole and pushed it down a little.
Next, we spread out along a yellow line and received dibbers and some of us chose to wear gloves.  Then we were ready.  Each one of us planted 7 or 8 wild flowers.
I noticed that every plug that I had was different so there will be lots of flowers that look completely different. After all the plugs were in the ground, the lady took us to look at the trees there and told us what they were.  There were many hollies and lots of other types of trees.   Most of them were quite small because they had been planted recently.
The whole time we were at the park there were smiles on our faces, especially when we were given chocolate bars after we had finished. The weather was bright; it was a good day to have fun and learn how to plant flowers.  Now we know how to do it, maybe we will do it more often. We enjoyed our outing and are grateful for being asked to help.  We plan to return in the Autumn to see how the wild flowers and trees in the conservation area are growing.
Written by Beth Lofthouse – Year 5