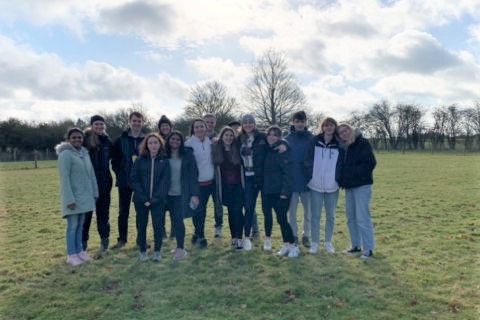 On a cold and wet February morning, 15 hardy students and staff from Anglia Ruskin University braved the elements and arrived by minibus at a recreation ground in Chatham Green.  Determined not to let the weather dampen our spirits, we had travelled from both the Cambridge and Chelmsford campuses for a morning of tree planting, and were eager to get started.
Nicola, the Parks and Conservation Volunteer Leader, wasted no time in explaining how to plant the trees so we could get moving quickly and start warming up!  No sooner had she finished going through the instructions, everyone grabbed spades and trees and were off to all corners of the field.
The areas for planting were already fenced off so the plan was to fill these with trees by the end of the morning.  Everyone worked solidly for over 2 hours, during which time the sun came out and it turned into a really pleasant morning!  We all really enjoyed ourselves, getting out into the fresh air, feeling like we were making a real difference to the local community of Chelmsford and more broadly the planet.  The team from the Council were really great and we were very pleasantly surprised to be rewarded at the end with hot drinks and chocolate biscuits!
We were amazed to learn that we had managed to plant 600 trees!  We were really pleased with this as this will make such a difference to Chelmsford City Council's plans to plant one tree for every resident in Chelmsford over the next ten years.  The planting also supports Anglia Ruskin University's aim in meeting targets set out in our Sustainability Strategy, including the goal of planting 10,000 trees in appropriate places by 2026.
This event had been organised by Anglia Ruskin Students' Union and Chelmsford City Council as part of their Student Volunteering Week programme of events.  This partnership has been going from strength to strength, with students and staff having previously planted 1000 trees in Admirals Park as well as conservation work at Chelmer Valley Nature Reserve.  There are plans for more events including a tree aftercare session for students and staff in April and a number of seasonal sessions with the parks volunteers this spring and summer. We will, of course, be back for more tree planting next winter too!
by Gayle Miller – Volunteer Coordinator, Anglia Ruskin Students' Union