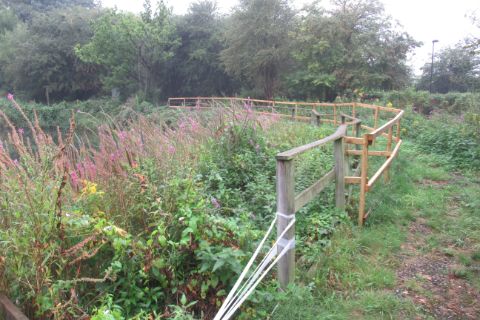 Marconi Ponds is a local nature reserve in the centre of Chelmsford. Located behind E2V it is owned by Chelmsford City Council and managed by volunteers for the enjoyment of the community and the support of wildlife. The large pond on the site is regularly used by children's groups for pond dipping. The money to buy the materials was awarded from the Greener Chelmsford grant scheme.
Approximately 10 years ago a retaining wall was constructed along one edge of the large pond. It was always known this had a limited life span. This acted as a retainer and fence to prevent the public falling into the pond. Over time the posts and gravel boards have deteriorated and the bank had started to collapse and become overgrown.
After considering several ideas a solution was chosen using Geotextile bags that are filled with soil, sand and pre-seeded so that over time nature will cover the green bags. Apart from Marconi ponds volunteers we were joined by a group of parks volunteers and as a team the vegetation was removed, a digger was used to create the bank edge, and a suitable foundation was laid.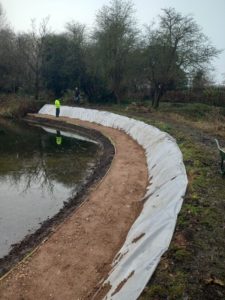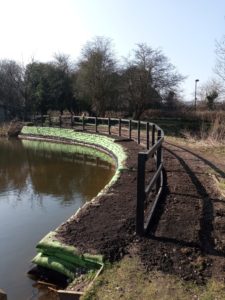 Once the foundation was complete two rows of gravel gabs were laid, and then the pre-seeded green bags. Tons of back fill was added behind the bags to create a solid structure. Once the bank had been built re-cycled plastic fencing was installed for safety purposes. A thin layer of topsoil has been added to help growth. Amazing work by a group of volunteers supported by the City Council.
For more information visit:  www.marconiponds.co.uk