Chelmsford is lucky to have many volunteers who donate their time and energy to keeping Chelmsford the beautiful city that it is. They're out there as we type, planting trees, supporting vulnerable people and helping us litterpick the thousands of acres of public green spaces around the city.
Without their support, we wouldn't have such a fantastic place to live, with such a rich community of people. Part of the council's job is to clean up litter, but there is so much of it these days and the problem is getting worse! Volunteers make a huge difference, both in doing more than the council could do on its own and in educating the next generation about looking after our environment.
The Love Your Chelmsford River Clean Ups are really popular with local community organisations and groups of friends, as well as families who want to teach their children about caring for our planet. These mass litter-picking sessions focus on clearing rubbish in and around the Rivers Can and Chelmer, which run through the city centre.
Brenda, Roger, Phil, David, Richard, who are all members of the Chelmsford Mildmay Rotary Club, are familiar faces at the litter picks. The Rotary Club's principles are "to serve society and to help local communities and charities whenever possible – helping Love Your Chelmsford with their litter picks is a top project of ours."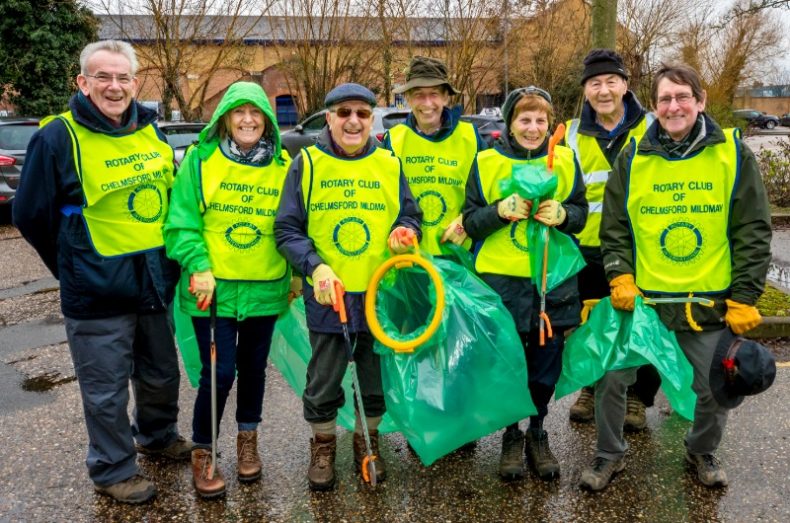 What makes you come along to the River Clean-Ups?
Brenda: "It's difficult not to feel great concern about the environment. It's a massive global issue, but anyone and everyone can at least improve and protect their local area. Every small contribution plays its part in the large struggle to ensure the world is fit for future generations as well as for ourselves."
Roger: "It's an opportunity to join with other club members in following the Rotary ideal of 'Service above Self'."
Phil: "I hate to see such a beautiful city scarred by litter, so I'm happy to get stuck in to tidy it up."
David: "I join in to make any part of Chelmsford District cleaner and healthier."
Richard: "To say thank you for all the help and support during the Scout Jamborees and to do my bit in keeping our environment clean and tidy. I'm pleased to help as Chelmsford City Council provides the wherewithal to keep us safe and it lets people know I am a Rotarian and Scouter."
What do you get out of these events?
Brenda: "The feeling that we are doing something very useful, even if the contribution is a small one. Plus finding out about areas of the city – for instance by the river banks – where we would not be during our usual, everyday routines."
Roger: "A feeling of helping in the community and demonstrating how Rotary can benefit everyone."
Phil: "Meeting my fellow Rotarians, actively working together and giving back to society."
David: "The feeling that I have done some little bit for the community."
Richard: "A session in the open air, the satisfaction of doing just a small job to keep the environment in our city looking good."
What do you enjoy the most when attending our sessions?
Brenda: "It brings a greater sense of optimism and hope about the future when you see such a wide range of local people of all ages giving time and energy to the task."
Roger: "When members of the public express their gratitude and even having my grandchildren wanting to join in."
Phil: "The camaraderie amongst all the volunteers and leaving the city a cleaner, better place to enjoy."
David: "The event, meeting other people, not only Rotarians, with the same sense of service as myself."
Richard: "Most enjoyable being with a likeminded group of friends, whose friendship and fellowship I value, if not their humorous quips! A free cup of coffee and sometimes a bacon roll as well!"
Would you like to get involved? See what to expect:
Want to loan some litter picking equipment from us?  Click here.