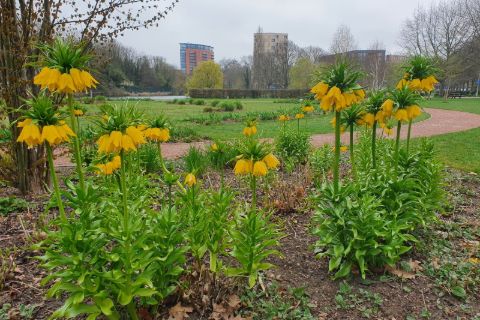 Central Park Gardener
Spring is upon us and we have been busy cutting back all the herbaceous plants ready for their spring flush of growth (we leave many of the grass seed heads so they look attractive in the winter frosts and provide a habitat for insects).  The garden at Central Park Café is packed with pollinator friendly species, starting with spring bulbs from early Scilla to Crocus. Currently making a good show are the Fritillaria imperialis- known as Imperial Fritillary or Kaisers Crown and are part of the Lily family.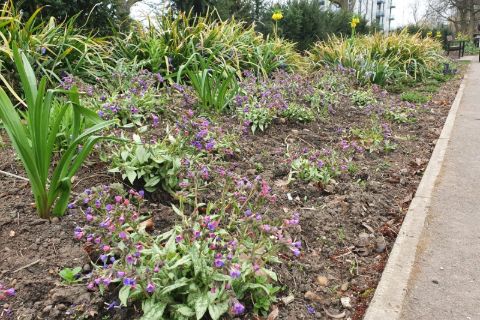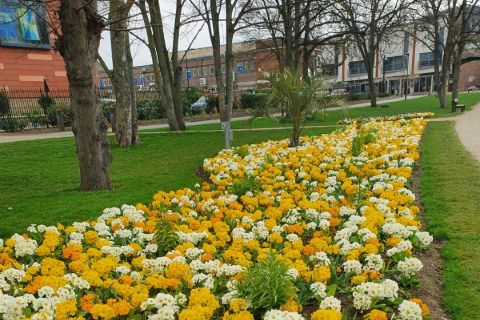 The lakeside main walk herbaceous borders have also been hoed and the grasses cut back.  Just starting to flower for early bees and insects are the Pulmonarias cotton cool (Lungworts) l with their purple and mauve flowers.  Dahlias and Paeonies are starting to emerge and the borders aim to be in colour right through to the autumn.
As you walk through to Bell Meadow, the traditional spring bedding is looking stunning with the Polyanthus in full colour.  We have been weeding and watering the plants as it has been so dry to keep the display looking as good as it can be.