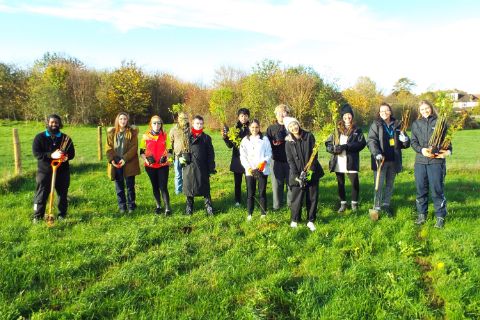 On a lovely sunny November morning, a team of Anglia Ruskin University staff and students came together at John Shennan Field in Chelmsford to do some tree planting.  This event had been organised by Anglia Ruskin Students' Union and Chelmsford City Council.
The staff and students were from both the Chelmsford and Cambridge campuses, so some had got up very early to travel from Cambridge to the site ready to start at 10am!  In spite of the early start, everyone was very enthusiastic and once Nicola from the council had explained what to do, we were all grabbing spades and trees and getting started!
There was a mixture of native trees including some fruit trees so visitors to the park in the future will be able to enjoy some foraging too.  There are also plans for local school children to plant around the area with wildflowers so with those and the trees when established, this will be a lovely area for wildlife and the public alike to enjoy.
By the end of the morning, we had planted 500 trees and were rewarded by the council with hot drinks and chocolate biscuits!  The team at the council were really great and we all really enjoyed ourselves.  A number of the staff and students commented how nice it is to get out in the fresh air and feel like we are doing something to make a difference.
This is part of the council's big tree planting plans for around the city and also the University's Sustainable Strategy goal to plant 10,000 trees and have a robust process in place to monitor their growth and survival rates by 2026.
So far, the council and Anglia Ruskin Students' Union have organised 3 of these events and have planted over 2000 trees!  We have another tree planting day planned for February and we hope to go back to both sites and undertake some tree maintenance to monitor and care for them after they have been planted.  It will be lovely to see how the trees are getting on and to make sure they survive for future generations to enjoy!
by Gayle Miller – Volunteer Coordinator, Anglia Ruskin Students' Union